Above:
Field School recording session at the Labor Temple Building, downtown Olympia, WA summer, 2021
Charles Bert spent many wonderful years in weekly meetings of the
Math & Physics Club
, an Olympia, WA combo that gently rocked Capitol Way back and forth and then over the top. Unfortunately,
Math and Physics Club
folded upon the death (by cancer) of founding member James in 2018. "We started the band together. We'd been scheming since we were 16 years old. I couldn't continue without him."
A final
Math and Physics Club
45rpm was released by Matinée Recording of James's last composition,
"Indian Ocean"
, backed with a tribute to James by Charles "In Dreams". Says Charles, "We went on a short tour of Australia, playing Perth. In a hotel room before the show started, we were looking at the Indian Ocean and wrote the song together. That was right before our last album came out. Then James got sick the following year."
In early 2020 Charles was goaded to record something for new Olympia record label Small Craft Advisory, founded by Jimmy Ulvenes. A collaboration was planned between Charles and the other two members of
Math and Physics Club
, Ethan and Kevin, when the pandemic hit. Ethan and Kevin live in Seattle now (where they pursue their own musical venture,
Model Shop
), so working together was no longer practical. But wait - - - what if Charles struck out on his own? Says Charles, "I've never played solo before, I've never released a tape,
Field School
is trying stuff I always wanted to do, just to do it." Charles chose the name because "
Field School
is a place to go to test things you've learned in a real environment."
Yeah! The results are in. The cassette-only release
It's only Everything
is not just Charles' first foray into home recording and solo playing, it is also the maiden release from Small Craft Advisory. Everything is happening anew. "Playing drums have been the most fun. I never played drums before - I can get away with this! I want it to sound like me playing in the basement." It does, in the best possible way.
Field School
, pure pop for now times and now places, basements and attics and everywhere else. Get down with
It's only Everything
!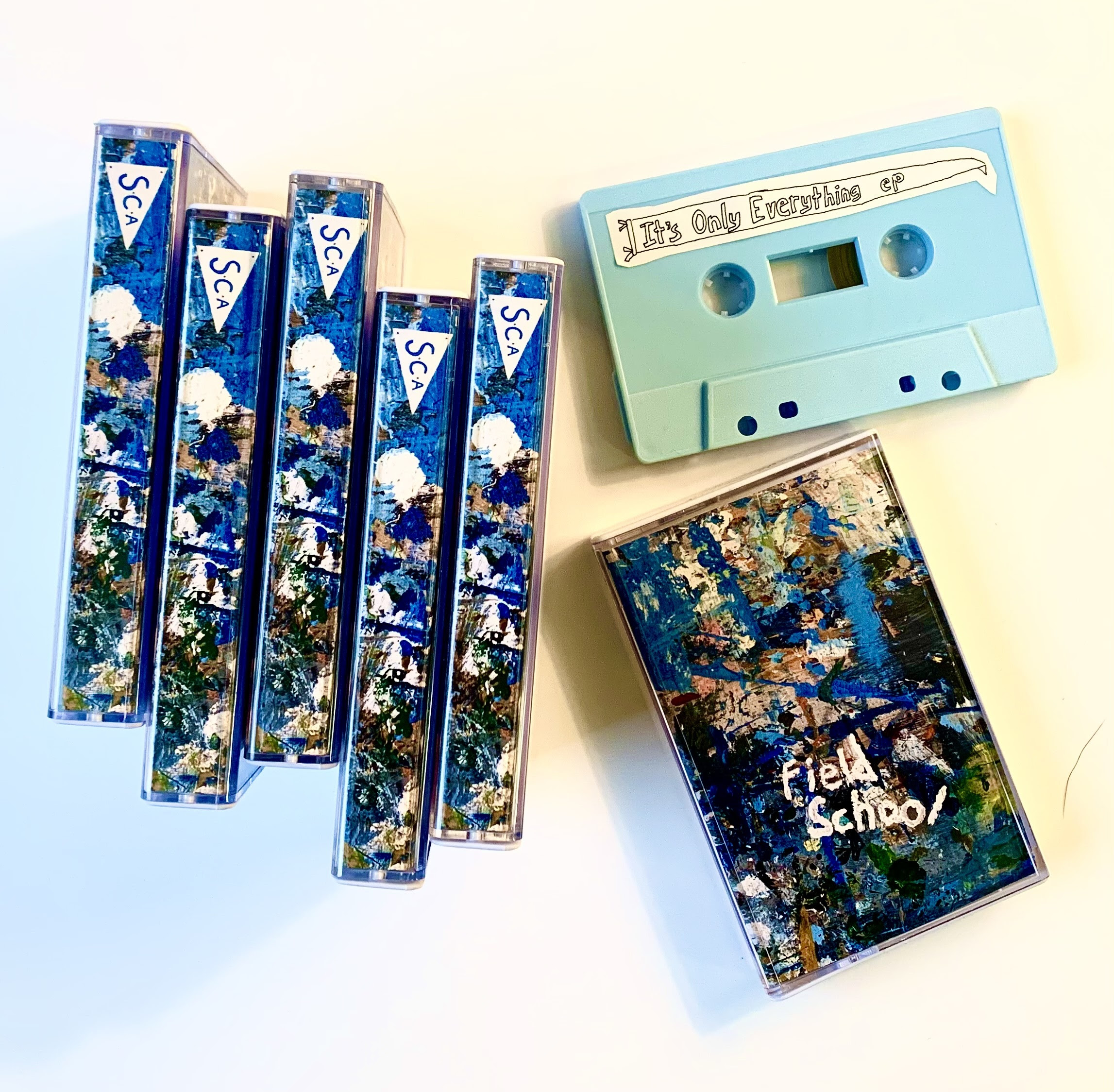 Field School
,
It's only Everything (Small Craft Advisory) CS
is available now from
The K Mail Order Dept.