Above:
Sam  Jayne, Diana Arens, Love as Laughter The Greks Bring Gifts [KLP051] recording session outside Dub Narcotic Studio, 17th Ave SE, Olympia, Washington, 1995 (all photogs by Pat Castaldo).
Diana Arens began her recording life as a live engineer on Olympia's community radio station 
KAOS-FM
. "I saw recording as an extension of the work I did at KAOS, documenting the creative scene." 
She produced one of the first such broadcasts when Michelle Noel was hosting
Lync
on
Color outside the Lines
, April 12, 1993. Soon after she attended a
Mecca Normal
show in Seattle and was amazed by opening act T
attle Tale
, "I'd never seen anything like them, the singing and whispering and shouting, and the audience in rapt attention." She invited them to Olympia to record - Jen and Madigan had to skip school to make the session. Those recordings ended up as one half of
Tattle Tale
's first cassette.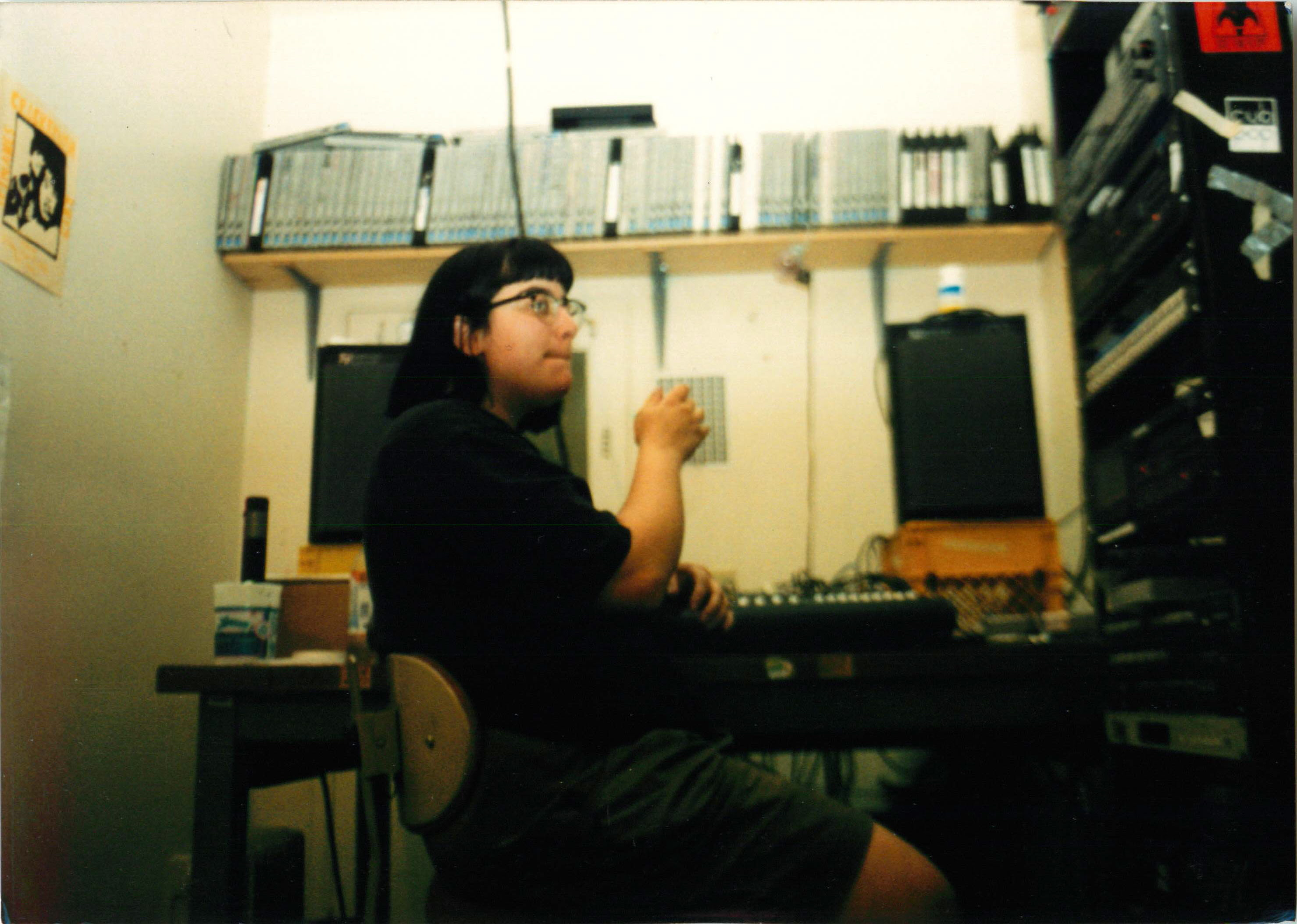 Diana Arens, recording Yo-Yo a Go-Go Festival, Yo-Yo Studio, Capitol Theater, Olympia, Washington, July, 1994
Diana Arens also recorded the Yo-Yo a Go-Go festival in 1994. "It was me, Sarah Lorimer, Aaron Gorseth and Brooks Martin. Mainly  me and Sarah. We would send Brooks down to get microphone assignments [from the second floor studio control room]. You could watch on a 9" B&W video screen, but if you wanted to know what was what you had to send someone down to take notes." They recorded everyone who played at Yo-Yo a Go-Go that year, including
Low
,
Lync
,
Heavens to Betsy
,
Bloodthirsty Butchers
,
Lois
,
Slant 6
,
Mecca Normal
,
Some Velvet Sidewalk
,
Go Sailor
,
Neutral Milk Hotel
,
Beck
,
The Halo Bender
s,
Fitz of Depression
, and
Unwound
. "It was really hot in that room and rally small and really fun." She also recorded Yo-Yo a Go-Go 1997 and the first Ladyfest in 2000.
Diana Arens was a regular engineer at Dub Narcotic Studio throughout the '90s, recording sessions with
Old Time Relijun
,
Little Red Car Wreck
,
Sandman
,
Jason (Hatfield) Stockwell
,
Al Larsen & Isaac Brock
,
Nikki McClure
and
Love as Laughter
.
Sam Jayne with Diana Arens in the background, Dub Narcotic Studio, 1995
She'd heard the early
Love as Laughter
cassettes, which Sam Jayne had recorded on his cassette eight track machine using repurposed YESCO tapes. "Sam and I had gone to Lollapalozza a few weeks before this session and slept in the back of his truck." The sessions at Dub Narcotic Studio in 1994 and 1995 would be included on
The Greks Bring Gifts
[KLP051].  "He was really interested in pushing the limits of your equipment to get more distortion. I'd been taught to keep things out of the red, but he had a vision of how he wanted it to be. So we did it Sam's way. I was the conduit."
"We were recording and hanging out. Sam came over to my house and went straight to my Prodigy and the UFO chat room so he could mess with the people talking about UFO sightings. It would never occur to me in a million years to prank people talking about UFOs. He was completely entertaining."
Three of the songs from Diana's Dub Narcotic Studio sessions ended up on
The Greks Bring Gifts
, "You Gotta Bug", "Keep Your Shade" and "Next Time You Fall Apart".
Calvin and Diana at KAOS-FM,
Lois
live broadcast on
Free Things Are Cool
, April 1995
"Sometimes when you were recording you were also in the band and would recruit me to record. I recorded
Dub Narcotic Sound System
and
The Halo Benders
. You left me alone with Doug, punch-ins and guitar overdubs (during
The Rebels not in [KLP081]
sessions). Doug wanted to do little bits or add something special. I got the tape rolling and while its rolling I press record and he nailed it, every one because he's a pro. Some artists would record things over and over. But Doug, he was laid back, "Good enough. Let's move on."
"If I could go back and give myself some advice in my twenties - 'where ever you are, you belong there.'"
Thank you Diana Arens, for all of your hard work documenting Olympia and beyond!
Diana Arens recording
Love as Laughter
at Dub Narcotic Studio, Olympia, WA. 1995